Men's Health Month November 2021 – Wellness Newsletter
November 9, 2021
Posted by:

Informed Healthcare Solutions

Category:

Client Wellness Newsletters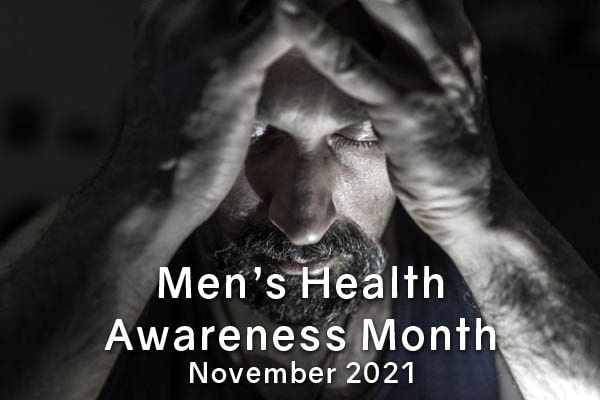 Men's Health Month November 2021 –
Wellness Newsletter
Men's Health Month November 2021: 1 in 23 men in South Africa will develop prostate cancer in their lifetime.
Key Issues:
Prostate Cancer
Suicide Prevention
1.) Men's Health Month November 2021 –
Prostate Cancer
On average 5 SA men will die from prostate cancer every day, influencing factors are age, family history and obesity.
Symptoms include:
Painful urination,
Frequent urinating, especially at night,
Pain in the lower back, hips or upper thighs.
Contact your doctor if you have experienced any symptoms. Your GP might recommend a PSA test.
Possible treatments include:
Active surveillance for low- risk prostate cancer,
Regular PSA tests,
Surgery or radiation therapy.
More information: Prostate Cancer Foundation
2.) Men's Health Month November 2021 –
Suicide
Men have a higher suicide rate than women. Most men tend to avoid healthcare, and this includes Mental Health care.
Many men suffer untreated mental health conditions – this is a silent pandemic. South African men are often unable to recognize negative emotions, and society has deeply entrenched traditional myths about how men should behave and react to their problems.
Many men say that they don't have any close friends that they can talk to about their problems. During Men's Health Month November 2021 encourage your partner, your brother, your men friends to open up and talk about their worries and to get help if they need it.
Men's Health Article: What To Do About Feelings Of Isolation And Loneliness In Lockdown
Medical Aid Quotes | Gap Cover Quotes | Life Insurance | Vitality
Disclaimer: The information and opinions in this document have been recorded and arrived at in good faith and from sources believed to be reliable, but no representation or warranty, expressed or implied, is made to their accuracy, completeness or correctness. The information is provided for information purposes only and should not be construed as the rendering of advice. Informed Healthcare Solutions accordingly accepts no liability whatsoever for any direct, indirect or consequential loss arising from the use of this document or its contents. IHS is a licensed financial service provider: FSP # 12239