2018 NHI and Medical Schemes Act update from I.H.S
November 9, 2018
Posted by:

Informed Healthcare Solutions

Category:

Industry Articles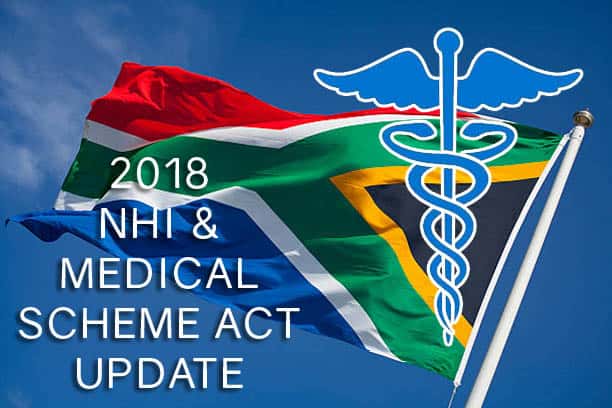 Here is a summary of the recommended changes gazetted in June 2018 under the authority of the Minister of Health, which, if passed as gazetted, will affect all medical schemes as well as any intended National Health Insurance (NHI). All of these recommendations are subject to objections and/or comment by all and sundry, for a period of 3 months. Thereafter follows a period during which certain legal processes may flow, and is finally subject to parliamentary approval. This whole process may take as much as 24 months before implementation, on whatever basis it may be implemented.
As part of this summary, we also give our viewpoints and explanations.
Medical Schemes will no longer be allowed to deduct co-payments in paying benefits to their members. This will have the effect of necessarily increasing the level of benefits offered, with a corresponding increase in premiums. The alternative could be to exclude these benefits altogether, but it is possible this may not always be permissible!
Medical Schemes should no longer pay commissions to brokers from the premiums they receive – any broker fee or commission should be paid by the member, by agreement, as an agreed amount over and above the medical scheme premium. This is a complete contradiction, because the Act allows the existence of a range of medical schemes with a variety of options, and this itself drives the need for advisors to assist the public and big business. All medical scheme administrators acknowledge the valid and important role of brokers, which to a great extent includes services which would, in their absence, need to be done by employees of the administrators and result in a cost factor anyway. More importantly, the public, in what is a vital financial service area, would be denied an unbiased view of the industry and its options. The presumption that removing broker commissions from the premium would save medical schemes an expense, is clearly false.
Prescribed Minimum Benefits (PMB's) are to be removed, and replaced by an alternative Comprehensive Services Benefit, yet to be precisely defined. PMB's are a basic range of benefits which schemes are obligated to pay.
Unequal Benefit Options – benefits are only to be paid for benefits registered by the Medical Scheme under approval from the Council for Medical Schemes (CMS). There is in fact no significant change here.
Establishment of a Central Registry – This will of necessity be kept by a government authority, with a limitation on the amount of detail to be kept in respect of each member country-wide. How this will benefit the individual is difficult to see, but will create the need for another 'buffer' of bureaucrats and payment of their salaries.
Cross Subsidisation between members irrespective of age (this is in fact the case at present) and irrespective of income (this is also in fact the case at present within most scheme options). Generally, however, there is no cross-subsidisation across the whole scheme, but only within each option within the scheme. The logic says that this should not be interfered with, as if each option is self-funding, then clearly the entire scheme will be self-funding.
It is presumed by the state that where schemes arrange networks of Designated Service Providers under certain options, with the clear intention of saving expenses, the scheme or the administrators benefit – rather, they contend that the benefit should go to the member! It is a very strange logic. If the benefit goes direct to the scheme, the members do save as a consequence – if the benefit goes to the administrator, then the CMS has allowed an incorrectly structured benefit option to exist!
Late Joiner Penalties paid by persons who have not been members of a scheme for many years will be abolished – however, waiting periods will still apply, where members are asked to make payments for a period, without being entitled to claim any benefit. This seems a reasonable recommendation.
There has to be a minimum education level for a person to be allowed to be appointed to be a trustee of a medical scheme, or an executive of an administration company administering a medical scheme. These men and women should be professionals, be of a minimum age and experience, and a percentage should be members of approved professional bodies.
It is the intention that a National Health Insurance (NHI) fund be established to cover all citizens and long term residents of South Africa. Private Healthcare will still be permitted, but all private healthcare members will still be required to contribute to the NHI. This is a self-contradictory, to enforce everybody in jobs and under personal financial strain, to contribute to the NHI as well as their own private healthcare. This will invite the closure of private healthcare delivery and the exit of many medical professionals.
There is no mention of the Competitions Commissioner, who has previously prevented the creation of a regulated general tariff of medical fees. He has contended that such a tariff operates against the consumer because of the creation of a 'cartel' situation countrywide. The very opposite ie. an unbridled increase in costs, has occurred in the very absence of such a regulated tariff. The industry has relied on market factors, allowing for the proliferation of gap cover products, which have encouraged inflation.
Placing serious restrictions on private schemes as well as private healthcare facilities will plunge them into financial problems – the state will need these private facilities to assist with the countrywide service delivery of the NHI. It is notable that the Minister of Health has stopped short of advising on (a) what the unfolding of the NHI process should be, and (b) how it is to be funded.
NHI (National Health Insurance):
Any national scheme intended for giving medical cover and benefit to the entire population must take into account having full-on personal medical histories of every member of the public, and has of necessity to be reconciled with each individual identity number of every citizen.
This information will need to be digitally summarised and be available in respect of any citizen anywhere in South Africa, at any time of the day, in order to be most effective.
Logic certainly tells us that medical schemes have already mostly digitised their member information, and have the IT facility to assist the government in the implementation process.
Private hospitals have equipment which is able to be utilised for the public sector, and this should be relied on by the government, and paid for on the basis of percentage allocations and agreed prices, which could be a part of the private healthcare sector's contribution to the NHI.
The intention of the Minister of Health is to raise funding for the NHI from the private taxpayer, firstly by removing the allowance now existing as a medical deduction, and also forcing them to contribute to NHI, whether they are on a private healthcare or not – this is patently absurd as a financial burden, will consequently destroy the private healthcare sector, and will end up chasing a huge section of the medical profession out of the country.
In our opinion, there is an existing public healthcare delivery sector – it seems that sections of this have been allowed to degenerate, much depending on the management in each public hospital or clinic. Absolutely, and without doubt, the delivery should be improved and a funding system should be implemented over a period of 5 years minimum, with an objective to be reached at the end of that period.
There should be a combined small committee of professionals to manage this process under the Ministry of Health, and this committee should include executives from the private healthcare delivery sector.
A final ingredient is goodwill and intent to achieve a beneficial result over a number of years for all citizens.
Disclaimer: The information and opinions in this document have been recorded and arrived at in good faith and from sources believed to be reliable, but no representation or warranty, expressed or implied, is made to their accuracy, completeness or correctness. The information is provided for information purposes only and should not be construed as the rendering of advice. Informed Healthcare Solutions accordingly accepts no liability whatsoever for any direct, indirect or consequential loss arising from the use of this document or its contents. IHS is a licensed financial service provider: FSP # 12239