Discovery Contribution Increase 2021 – May Newsletter
June 6, 2021
Posted by:

Informed Healthcare Solutions

Category:

Discovery Health Newsletters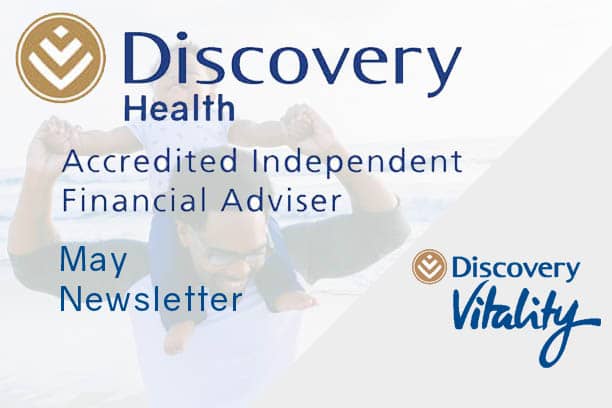 Discovery Contribution Increase 2021

Contribution Increases 1 July 2021
Discovery Contribution Increase 2021 by an average 5.9% on 1st July. You can change your plan in June (with effect from 1 July 2021) but MUST submit the instruction before the 15th June 2021 or as required by your payroll department .
The contribution table and plan comparisons are available on the website. Log into www.discovery.co.za/portal/ and go to Manage Your Health Plan / Change Your Health Plan.
Discovery Contribution Increase 2021 – Oh Baby!
Female members on Discovery have certain maternity benefits, depending on their plan.
You can activate your maternity benefits and early childhood benefits:
When you create your pregnancy or baby profile on the My Pregnancy or My Baby program on Discovery's website or app under Medical Aid and Benefits and Cover.
By calling 0860 998877 and following the voice prompts.
When you register your baby onto the scheme.
During pregnancy, the following benefits are available depending on your plan type:
Antenatal consultations: up to 12 visits at your gynaecologist, GP or midwife, or a network provider.
Ultrasound scans and prenatal screening: two 2D ultrasound scans (3D and 4D are covered up to the rate charged for 2D). If you meet the clinical criteria, further scans may be available.
Blood tests: pregnancy, HIV, Syphilis, German Measles, Hepatitis B, Glucose, Blood cross-matching, Anaemia and blood type. Antenatal classes with a nurse.
Essential devices such as breast pumps and smart thermometers on the Classic and Essential plans.
75% off a TytoHome device on the Executive, Comprehensive, Priority, Saver and Smart plans.
Birth-related Benefits:
Your cover for your hospital stay depends on your plan, and can include home births or birthing home deliveries with a registered midwife. Water births are also covered. If you use a doula, this is covered from Savings.
Members need to register newborn babies on Discovery within 90 days of birth, for the baby to be accepted with no waiting periods. This also applies to adopted children, within 90 days of the adoption date. Cover must start from the date of birth or adoption, but your monthly contribution will only increase on the 1st of the following month.
Check with the hospital when the mother goes in to give birth, as some hospitals will automatically send in documentation to add the newborn to the mother's medical aid plan. In some cases, the parents might be on different plans, and might want the newborn not to be registered on the mother's plan.
Make sure the hospital is not adding the newborn to one plan, while the parents are adding to a second plan. The newborn does not have to be added to the mother's plan, but must be added to a plan where a parent is the main member.
Early Childhood Benefits:
You and your child have certain benefits for up to two years after birth. These include GP and specialist visits, breastfeeding consultations, nutrition and mental health consultations. Read more about Maternity Benefits here.
Discovery Contribution Increase 2021 – Vitality Active Gear
Discovery Active Gear discounts depend on getting your goals within Vitality Active Rewards. You will find your discount on the app, after selecting Active Rewards and Vitality Active Gear.
Sports Gear and Equipment at TotalSports or Sportsmans Warehouse: 10% + 5% with Vitality Age Assessment + 10% with a Vitality Health Check.
Fitness devices at TotalSports or Sportsmans Warehouse: 10% + 5% + 10% as above, +25% for completing 25 Active Rewards exercise goals (5% for every 5 goals), + up to 25% depending on Discovery Card spend.
Nike footwear and apparel at Nike, TotalSports or Sportsmans Warehouse.
When you've reached the discount you want, lock in a voucher that will be valid for the month you are in. When you use the voucher, the discounts relating to exercise and Discovery Bank will go to zero and you start again.
Visit the stores here:
Apple Watch activation fee waived to 30 June
If you activate the Apple Watch benefit before 30 June, the activation fee of R999 will be reduced to a R10 admin fee. Activate the benefit with the latest Discovery App, pay the R10 fee and collect your watch at your selected iStore. View the Apple Watch series here.
To qualify, you need to have a Discovery Bank credit card with a R15 000 or more limit and R5000 available credit. You need an iPhone 6S or later to use Apple Watch. You can then fund your Apple Watch by reaching your Vitality Active Rewards goals for 24 months.
Only one family member can activate the benefit at a time, and the family member can be the main member, spouse or adult dependant.
The watches available on this benefit are:
Apple Watch Series SE Cellular Aluminium Case Sport 40mm (including Nike+ Aluminium Case Sport 40mm),
or Apple Watch Series 6 GPS (Non-Cellular) Aluminium Case Sport 40mm (including Nike+ Aluminium Case Sport 40mm).
To select a different model, you would need to pay the difference upfront to iStore.
If you don't meet your goals in a particular month, you will pay an amount (or percentage thereof) equal to the purchase price divided by 24 months. In other words, if you never meet your exercise goal, you will pay the full price of the watch over 24 months with no added interest.
Should you meet your Vitality Active goals every week for 24 months, the R10 or R999 fee is the only amount you will pay for the two listed watches (plus any addition for a different model).
If you meet 0-1 goals, you pay the full monthly amount. If you meet 2 goals, you pay 75% of the monthly amount, 3 goals 50% and 4 goals 0%. If you need to pay an amount in a particular month, this is deducted from your Discovery Bank credit card.
7 Reasons why having credit is good for your financial wellbeing.
Discovery Bank referrals: donate to charities
Being a Discovery Bank member, you can earn up to 5000 Discovery Miles when you use the unique code you are given to refer friends and family. You can also use a charity code, to donate the referral fee to one of the charities recommended by Discovery ambassadors:
Gift of the Givers [CHIEFLUCAS],
FoodForwards SA [DREAMER],
Caster Semenya Foundation [SEMENYA],
Chad le Clos Foundation [CHAMPION],
Women and Men Against Child Abuse [MONTJANE],
UNICEF [JOANN1],
GiveLight Foundation [COMEDYDOC],
Reach for a Dream [CHEFHIGGS],
Woodrock Animal Rescue [JOHNO1].
Find your personal referral code when you log into your Discovery Bank app. Go to "More" and to "Friend Referral Rewards". Select your friends from your phone contact list, and click on "send referral". You will see a preview of the SMS your friend will be sent, before you click on "send".
Your rewards are based on what your friend registers for. You and your friend will both get the rewards: 5000 Discovery Miles for the full banking suite, 2500 for the credit card or 1500 for a transaction account. Your rewards are issued when the first transaction is made on the account.
Medical Aid Quotes | Gap Cover Quotes | Life Insurance | Vitality
Disclaimer: The information and opinions in this document have been recorded and arrived at in good faith and from sources believed to be reliable, but no representation or warranty, expressed or implied, is made to their accuracy, completeness or correctness. The information is provided for information purposes only and should not be construed as the rendering of advice. Informed Healthcare Solutions accordingly accepts no liability whatsoever for any direct, indirect or consequential loss arising from the use of this document or its contents. IHS is a licensed financial service provider: FSP # 12239