Discovery Newsletter September 2019
Discovery Newsletter September 2019
Discovery Newsletter September 2019 | Discovery News for Discovery Health members
Discovery Newsletter September 2019 – Year End Increases
9.5% – Average increase for 2020
10.9% – Increase for Executive and Comprehensive plans and for the KeyCare Plus lowest income band
9.9% – Increase for Coastal plans
8.9% – Increase for all other plans not mentioned above
Telephone and email plan change deadline – 13 December
Website plan change deadline – 31 December
Smart Plans In 2020
The Smart series was launched in 2016 and now has over 100,000 members. Smart plan members use the Discovery App twice as often as members of other plans. 83% of Smart GPs who log in use HealthID regularly to access patient records.
In 2019 the Smart Hospital Network expanded to George, Kimberley, Richard's Bay, Polokwane and Emalahleni. In 2020 the network will have new coverage or better coverage in the following areas: Tzaneen, Klerksdorp, Welkom, Umtata, Newcastle, Ballito, Pretoria and Cape Town.
In 2020, Classic Comprehensive Zero MSA will change to Classic Smart Comprehensive. The plan will include the following:
Defined set of day-to-day benefits including Smart GP visits, certain specialist consultations and other essential healthcare services with fixed co-payments and/or limits. No MSA and no Day-to-day Extender Benefits are included on the plan.

GP co-payment R55
Medication limited to R2500pp or R4000 per family per year

All Smart day-to-day benefits, excl over-the-counter medication, accumulate to Threshold and members have access to unlimited Above Threshold Benefit cover.
Oncology benefit covers the first R300,000 of your approved treatment per 12 month cycle and thereafter 80% of the claim.
Hospital cover within the Smart Hospital Network. R9650 upfront co-payment for elective procedures outside of the network. Specialists who don't have a payment arrangement are paid at 200% of medical aid rate.
Coaches In 2020
Statistics show that there are 24 cancer diagnoses, 8 non-fatal heart attacks and 313 chronic diagnoses per day.
When Discovery Health members experience a life-changing event, they have immediate access to:
Benefits that fund their access to healthcare
Managed care programmes that ensure compliance with treatment protocols and clinical guidelines
Digital tools that support them and their doctor with relevant clinical information
In 2020, Discovery Coaches will provide relevant support to the member, ensuring they enrol on the correct programmes and know their benefits. Coaches will also assist with behaviour changes, with motivation, goal setting and tracking. Coaches will be deployed on the Cardiac, Oncology and Diabetes Programmes.
Discovery Newsletter September 2019 – Benefit Updates For 2020
SPECIALISED MEDICINE AND TECHNOLOGY BENEFIT
Full cover options for the treatment of rheumatoid arthritis, ulcerative colitis and Chrohn's disease will be introduced in 2020, funded from this benefit. Should members voluntarily seek alternative treatment, the Scheme will only pay up to the reference price for treatment. This will apply to treatment authorised on or after 1st January 2020 and will not affect funding for treatment authorised prior to 2020.

ACUTE MEDICINE ON CLASSIC SMART PLAN
The Classic Smart Plan will have an annual benefit limit for schedule 3 and above acute medicine prescribed by a Smart GP. The limit will be R1500 per member and R2500 for a family. The R10 co-payment per item will no longer apply, and members may use both Clicks and Dis-Chem to obtain these medicines.
FUNDING AND ACCUMULATION OF CLAIMS FOR ACUTE PRESCRIBED MEDICATION
For plans with Thresholds – Executive, Comprehensive and Priority plans – accumulation to the Annual Threshold, and payment from the Above Threshold Benefit will be up to 50% of the Discovery Health Rate for non-preferentially priced generic and brand medication prescribed out-of-hospital. Preferentially priced generic and brand medication will continue to accumulate and be funded at 100% of the Discovery Health Rate.
DAY-TO-DAY EXTENDER
The Day-to-day Extender Benefit will cover unlimited pharmacy clinic consultations in Discovery's Wellness Network, as well as video call consultations with a network GP. Members will also have cover for consultations with a network GP, when referred. Consultations are unlimited for Executive, Comprehensive and Priority plans, while Saver plans have limited cover for up to 6 consultations.
EXECUTIVE PLAN: MRI, CT SCANS AND SCOPES
The Executive plan will have a co-payment for out-of-hospital MRI/CT scans in 2020, when they are not related to an approved admission or when they are related to conservative back and neck treatment. The first R3040 will be funded from day-to-day benefits and the balance from Hospital benefits.
This does not apply to PMB claims.
Gastroscopies, colonoscopies, sigmoidoscopies and proctoscopies performed in-hospital will have a co-payment. The first R4 100 of the hospital account will be funded from the available day-to-day benefits (with accumulation to the Above Threshold Benefit) and the balance of the account from the Hospital Benefit, up to 100% of the Discovery Health Rate. The deductible does not apply to PMB admissions and for children under 12 years or to endoscopic procedures performed in the doctor's rooms. These endoscopic procedures will continue to fund from the Hospital Benefit as for 2019.
SCOPES
A higher deductible per admission will apply for scopes, where both a gastroscopy and colonoscopy are performed together as part of an admission. This change will apply to all plans except for the KeyCare plans.
CHRONIC ILLNESS BENEFIT
Certain formulary changes and Chronic Drug Amount updates will be applied in 2020. Communication has been sent to impacted members. These members will have until the end of 2019 to make changes to their treatment to avoid or reduce co-payments.
LIMITS, CO-PAYMENTS, DEDUCTIBLES AND THRESHOLDS Co-payments and deductibles are increased by 9.5%.
Benefit limits are increased by 9.5% with the exception of the following where there is no increase for 2020:
Oncology threshold; Specialised Medicine and Technology Benefit limit; Cochlear and auditory brain implants;
International Travel Benefit; Overseas Treatment Benefit; Hip, knee, shoulder and spinal prostheses limit;
External Medical Items limit and KeyCare mobility benefit.
KEYCARE CASUALTY BENEFIT
In 2020, the Scheme will be introducing a limit of one casualty visit per person for elective casualty visits. The limit will not apply to emergency casualty visits or to a visit that results in an admission.
DELTA HOSPITAL NETWORK
In 2020 the Delta Hospital Network will be expanded to include Life Wilgers Hospital in Pretoria.
CLASSIC COMPREHENSIVE ZERO MSA TO CLASSIC SMART COMPREHENSIVE
All Smart risk benefits (excluding the OTC Benefit) and all self-funded benefits will accumulate to the Annual Threshold at 100% of the Discovery Health Rate. All other risk payments will not accumulate to the Annual Threshold. Existing Classic Comprehensive Zero MSA members will remain on Classic Smart Comprehensive on 1 January 2020. Members will be contacted during October 2019 regarding the change in their plan benefits and contributions for 2020, with the option to move to Classic Comprehensive in 2020 to retain their current benefits.
For Employers And Employees In 2020
PRIMARY CARE
A business with a minimum of 10 employees can purchase Primary Care for their employees. Primary Care is an alternative to a medical scheme and the employee cannot be on both a medical scheme and Primary Care.
In 2020, nurses will be used to improve access and convenience for employees. Employees will have unlimited pharmacy clinic consultations, supported by telemedicine consultations with a network GP. This means the employee goes only to the pharmacy, consults at the clinic, obtains the script and collects medicine all at once. GP consultations referred by the pharmacy nurse are unlimited, and two visits per year without a referral are covered.
Employers can choose to make Primary Care voluntary or compulsory, and can choose either Primary Care Advanced or Primary Care Activate for their employees. With Primary Care Advanced, there is a choice between using the nurse referral or not. There is also a Trauma Benefit that can be added with a R300,000 or R100,000 annual limit.
Primary Care Advanced: New benefits include unlimited network nurse visits, HIV management, Annual Flu Vaccination and Specialist Benefit. The optional Trauma Benefit has been enhanced.
Primary Care Activate: New benefits include unlimited network nurse visits, HIV management, and Annual Flu Vaccination. Basic optometry, basic dentistry benefits and the optional Trauma Benefit have been enhanced.
PRIMARY CARE FOR HOUSEHOLD EMPLOYEES
Primary Care Activate will be available for household employees from 2020, with the optional Trauma Benefit. Eligible employees include cleaners, gardeners, drivers, and carers working in a private household and domestic workers employed by an employment service. The spouse and dependants can be added to the cover.
Cover will include access to unlimited network nurse visits, GP visits if referred by the nurse (two without being referred), basic dentistry, basic optometry, flu vaccination, HIV management, wellness screening and funeral cover. If the optional Trauma Benefit is added, cover will include ambulance services. There is a three month general waiting period.
The application for household employees is completed by the employer on the Discovery App and is fully digital.
The employer does not have to be a Discovery member.
HEALTHY COMPANY
This is an integrated employee assistance programme that looks at high risk behaviour shown to lead to chronic diseases. The programme assists the employer in monitoring and changing the behaviour of their employees for the better. In the process, the lives of the employees are improved, and the productivity of the business improves.
In 2020 the benefits are being enhanced to include wellness calendars and self service tools for employers to use to motivate employees, with wellness advisers to guide the progress of the company, and training and workshops. Employees will be able to access Vitality Active Rewards through the Vitality Health Tracker. This will include the exercise goal ring from Active Rewards, on the Discovery App. Employees are given company goals and can earn rewards by completing these goals, as well as their fitness activities. Employees can get 50% off a Huawei Band 2 Pro, to track their fitness.
Discovery Newsletter September 2019 – Gap Cover In 2020
Discovery's Gap Cover is subject to an overall annual limit of R160 000 per person per year. The premiums will increase by 9.9% for members on Discovery Health Essential and Coastal plans and 8.9% for members on Executive or Classic plans.
On Gap Comprehensive, the in-hospital specialist cover will increase to 500% of medical aid rate in 2020. On Gap Core, the benefit is increased to 250% of medical aid rate.
The Hospital Admission Benefit Extender has been adjusted to reflect the higher reimbursement rate. On Gap Comprehensive this will now include a private ward benefit limited to five nights per person per year.
Members on Essential and Coastal plans may apply for cover at any time, with the 24 month application waiting period removed. If downgrading from another plan to an Essential or Coastal plan, members will be able to keep their existing Gap plan, but may be underwritten at the time of the change.
Vitality Health Tracker For All Members In 2020
The Vitality Health Tracker replaces Vitality Move in 2020. It is free and available to Discovery Health, Life, Invest and Healthy Company members. Activate Health Tracker on the Discovery App, track and achieve your goals (exercise, and health checks), play the gameboard and earn Discovery Miles when you achieve goals, upgrade to Vitality Active or Vitality to access your rewards.
Vitality Active In 2020
Vitality Active rewards you for leading a healthier lifestyle. Join now and pay R45 per month till the end of 2019.
2020 rates are R89 per month for the main member and R79 for each additional adult.
Benefits include:
50% off gym fees at Virgin Active RED clubs and Planet Fitness JustGyms
Up to 50% saving on Huawei Band 3 Pro at Sportsmans Warehouse
Access to weekly rewards for achieving goals through Vitality Active Rewards
Up to 25% cashback on personal care items at Clicks or Dis-Chem
Half price movies at Ster Kinekor
R15 000 funeral cover for all adult dependants
Vitality Active Rewards In 2020
Previously, members with the DiscoveryCard (credit card) could earn Discovery Miles as they transacted with their credit card. In 2020, Discovery Miles will be used as the reward currency for Vitality Active Rewards.
Vitality Active Rewards has three goal rings: exercise, drive and money. As you achieve your goals, the rings close and you get rewarded. You will earn 100 Discovery Miles each time a ring closes. Get active to close your exercise ring, drive safely to close the drive ring, and manage your finances responsibly to close your money ring. Every goal you achieve will also earn you a play on the game board, and achieving all three goals will earn a bonus play. Play the game board to earn additional Discovery Miles (minimum 25).
Discovery Health members will also be given personalised health goals, including assessing your mental health, and Discovery Drive members will have personalised driving goals.
Spend your Discovery Miles on the range of rewards below, or if you belong to Discovery Bank, convert them to Rands and bank them in your Savings account.
Spend your rewards on:
Donate your rewards: Vitality MoveToGive
Coffee and Popcorn: Mugg and Bean, Kauai, Vida e Caffe, Ster Kinekor
Smoothies and Snacks: Kauai, Nu, Pick n Pay, Woolworths
Meals and Entertainment: BoxOffice, Woolworths, Nando's, StopWash
Shopping: Dis-Chem, Typo, Sportsmans Warehouse, Exclusive Books, Yuppiechef, Hirsch's, Cape Union Mart, Loot, Zando, Makro, Sunglass Hut, Cotton On, Hamley's, iStore, Incredible Connection, Samsung
Travel: Emirates, kulula.com, Sun International, Protea Hotels, British Airways, Qantas, Europcar, Uber
Entertainment and Spoils: Amani Spas, Col'Cacchio, Netflix, Sorbet, Sorbet Man, Nu, Netflorist, Kauai, Steam
Active Rewards For Kids And teens In 2020
Teens from age 14 to 18 can access Vitality Active Rewards and link their fitness device. Parents activate the benefit from the main member's profile, and confirm the teen's details. The teen then downloads the app onto their phone and logs in with the user name and password created by the parent. The teen will get personalised exercise goals and earn Discovery Miles for achieving goals. Teens can spend the Miles at rewards partners such as Steam, Typo and Cotton On.
Parents can create a profile for children aged 2 to 13 by activating family goals on their own Vitality Active Rewards profile. With the parent, the child selects a challenge, which needs to be completed within 7 days. This could be something like "try 3 new vegetables this week". When the challenge is complete, the child can choose a tile on their board to reveal, and earns 25 Discovery Miles. Completing 8 challenges reveals the full board and earns a bonus 25 Discovery Miles. The child can earn more Discovery Miles for other things such as 200 Discovery Miles for a dental check-up. The child can then spend their Miles on age appropriate rewards such as Lego from Takealot.
Changes To Vitality Points In 2020
Points requirements for the lower Status levels have been lowered, and additional points are required to achieve Gold Status.
Blue Status Everyone starts on Blue Status
Bronze Status Main member 7,500 points, second member 7,500 and 3,750 for each additional member
Silver Status Main member 25,000 points, second member 25,000 and 12,500 for each additional member
Gold Status Main member 40,000 points, second member 40,000 and 20,000 for each additional member
Diamond Status Main member 50,000 points, second member 50,000 and 25,000 for each additional member
Discovery Newsletter September 2019 – How to earn your points:
Find out your Vitality Age (1500 points), understand your Mental Wellbeing (500 points twice a year).
Complete a Vitality Check for up to 22 500 points depending on how many results are within range and how many are high risk.
Complete other tests depending on age and gender: pap smear and mammogram 2500 points each, colonoscopy 2500 points, dental health check 1000 points, flu vaccination 1000 points, Initial HIV test 7500 points, additional HIV test 1000 points, register for a Care program 2500 points.
Points can be earned for outcomes such as weight management (up to 2500) and Diabetes (up to 4000). Additional tests for those over 60: Vaccines up to 3000 points, Glaucoma screening 2500 points, vision test 1000 points and activating Vitality Active Rewards 1000 points.
Complete a Vitality Fitness Assessment for up to 7500 points.
Get Active and earn up to 30,000 points per year.
Up to 12,000 points per year for buying HealthyFood items.
Kids will still earn points for vaccinations, but all other kids' points have been converted to Miles in the Vitality Active Rewards programme.
If you have a Vitality product, Vitality Active Rewards and a Discovery Bank product, you can earn up to 5000 Discovery Miles for completing personalised health check goals. You can accumulate and spend the Miles, or you can convert them to Rands and bank them into your Savings account.
Vitality Purple
Enjoy all the benefits of Vitality plus the following exclusive services and rewards with Vitality Purple:
Up to 75% off at any Virgin Active or Planet Fitness gym
Up to 25% off premier bicycle brands or golf clubs
Build a bespoke home gym utilising available discounts
Up to 50% off top-of-the-range fitness devices
Up to 50% off luxury spas
Access to your own personal Discovery Purple private consultant
Discovery Newsletter September 2019 – Vitality Costs In 2020
Product
Main Member
Each Additional Adult
Vitality Health Tracker
Free
Free
Product
Main Member
Member + 1
Member + 2+
Vitality Purple
R429
R495
R539
Discovery Health 2020 Contributions Table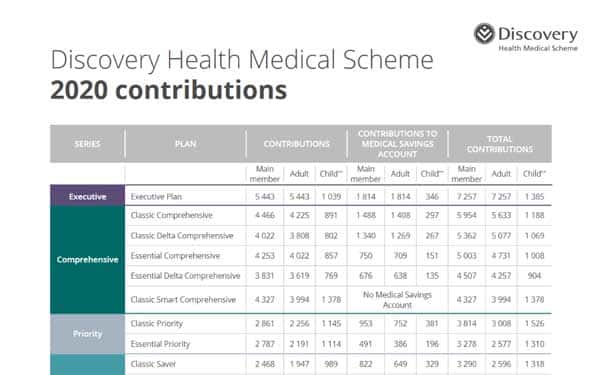 Click on image to view or download.
Medical Aid Quotes | Gap Cover Quotes | Life Insurance | Vitality
Disclaimer: The information and opinions in this document have been recorded and arrived at in good faith and from sources believed to be reliable, but no representation or warranty, expressed or implied, is made to their accuracy, completeness or correctness. The information is provided for information purposes only and should not be construed as the rendering of advice. Informed Healthcare Solutions accordingly accepts no liability whatsoever for any direct, indirect or consequential loss arising from the use of this document or its contents. IHS is a licensed financial service provider: FSP # 12239
Discovery Newsletter September 2019